Art
12 Fascinating Facts About the Metropolitan Museum of Art
With 17 curatorial departments, 2.2 million square feet, and more than 2 million works in its permanent collections, the Metropolitan Museum of Art—colloquially known as the Met—contains more treasures than most visitors will ever be able to see in a lifetime. It's impossible to summarize the New York City museum's history, contents, and legacy in just one list, but here are 12 facts that might make you view the storied institution in a new light.
1. The Met wasn't always enormous.
The Met was founded in 1870 by a group of businessmen, financiers, artists, and cultural enthusiasts. Today, it's known for its swanky digs on Museum Mile, a swath of Fifth Avenue that borders Central Park, but the institution was originally located in a much smaller building at 681 Fifth Avenue, which housed a Roman stone sarcophagus and 174 European paintings. The Met's collection quickly grew too large for the space, and in 1873, the museum was moved to an estate on West 14th Street known as the Douglas Mansion, where it remained until builders completed its permanent location in 1879.
As the Met's contents swelled over the years, various additions were attached to the building. Today, the original structure is completely surrounded by more modern wings. However, you can catch a glimpse of its original west facade in the museum's Robert Lehman Wing, which houses 2600 works that once belonged to the notable banker.
2. The museum retired its iconic metal buttons in 2013.
If you visited the Met before 2013, you likely received a metal button emblazoned with the museum's logo (and accidentally left it attached to your jacket lapel long after you had exited the premises). The iconic proof of admission was introduced in 1971, but soaring metal prices in recent years made the trinket too costly for museum officials to continue—so in 2013, the Met retired the button in favor of a sticker. The new offering will likely never be as nostalgic as its predecessor, which for years has been incorporated into artworks, featured on museum souvenirs, and collected by zealous patrons.
3. The Met has a residential floral artist.
Each week, Remco van Vliet—a Dutch florist whose father's flower shop once supplied blooms for the country's royal family—produces five towering bouquets for the Met's Great Hall. Van Vliet's arrangements stretch up to 10 to 12 feet high. Meanwhile, floral works he creates for events held in the museum's sky-high Egyptian wing can reach up to 20 feet.
4. It's full of familiar paintings and sculptures.
TIMOTHY A. CLARY/AFP/Getty Images
Among the institution's many paintings and sculptures, highlights for art lovers include Emanuel Gottlieb Leutze's Washington Crossing the Delaware, The Little Fourteen-Year-Old Dancer by Edgar Degas, Jackson Pollock's Autumn Rhythm (Number 30), and Van Gogh's Wheat Field with Cypresses.
5. It's home to the world's oldest surviving piano.
If you're more of a music person than an art lover, there's no need to skip a trip to the Met. The museum's collections include about 5000 instruments, and one of them is the world's oldest surviving piano. The antique instrument dates back to 1720, and was created by Bartolomeo Cristofori—the Italian man who is credited with inventing the piano.
6. There's plenty of armor and weaponry within its walls.
Even if you're not that interested in music or art, you can still check out Henry VIII's armor—which was likely worn by the king during his last military campaign in 1544—and other impressive examples of battle gear in the Met's Arms and Armor Department.
7. It's a mecca for fashionistas.
Meanwhile, fashion-lovers can get their fill at the museum's Costume Institute, which boasts more than 33,000 historic, contemporary, and culturally significant articles of clothing and accessories from five continents and seven centuries.
8. You can travel the world …
By visiting the Met, you can temporarily leave New York City—if only in spirit. Visitors can stand in an ancient Egyptian temple, relax in a Chinese Garden Court, stroll around a 16th-century Spanish castle's patio, visit a villa bedroom that was swallowed by the eruption of Mount Vesuvius in 79 CE, and admire a room like the ones found in the late Ottoman period in Damascus, Syria.
9. … Or visit the Middle Ages.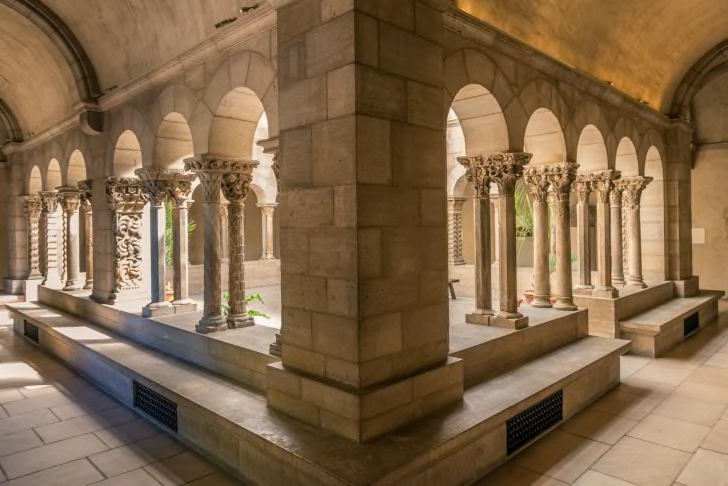 You can travel back in time if you head up to northern Manhattan. The borough's Washington Heights neighborhood is home to The Cloisters, a branch of the Met that houses medieval art, architecture, and artifacts. Built as an ensemble that incorporates architectural elements from medieval cloisters and other European sites, the Cloisters loom over the Hudson River and are surrounded by lush Fort Tryon Park. Its idyllic location makes it a popular day-trip destination for city dwellers.
10. The Met has been featured in children's books …
One of history's most beloved works of children's literature, From the Mixed-Up Files of Mrs. Basil E. Frankweiler by E. L. Konigsburg, chronicles the misadventures of two children who run away from home and take up residence inside the Met.
11. … And also in movies.
The Met has appeared in so many movies that it's a cinematic star in its own right. Billy Crystal and Meg Ryan stroll through the museum's Egyptian temple area in When Harry Met Sally (1989). In 1999's The Thomas Crown Affair (a modern-day remake of the 1968 original), Rene Russo stars as an investigator who tries to prove that an elusive—and charming—financier played by Pierce Brosnan stole one of the institution's Monet paintings. And the Cloisters' scenic grounds have appeared in movies like Coogan's Bluff (1968), Keeping the Faith (2000), The Front (1976), and The Devil's Own (1997).
12. The museum receives millions of visitors each year.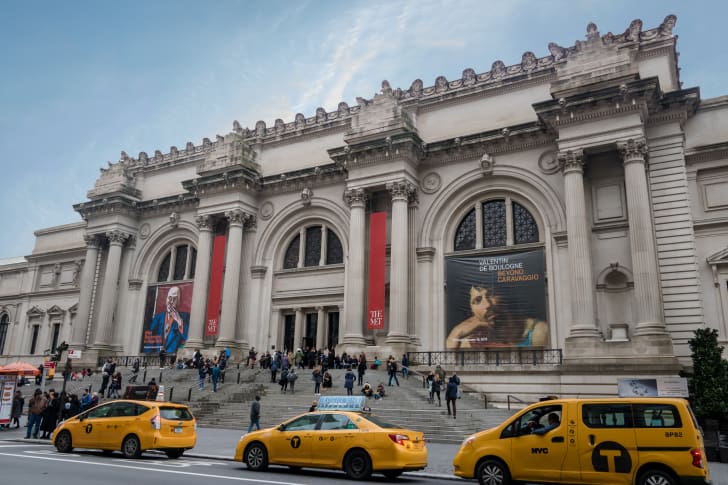 The Met is the largest art museum in the United States, and one of the most-visited museums in the world. In 2019, officials announced that 7.3 million people had swung through the museum during the previous year.
This list was first published in 2016 and republished in 2019.
.